Pilgrim-Destinations

Places to Visit in Shirdi
Shirdi
Shirdi, regarded as the spiritual town with devotees from across the world, is a small hamlet located in Rahata, Ahmednagar district of Maharashtra.shirdi is famous for being the place of 19th century Guru shirdi Sai Baba. This legendary sage of India, Sai Baba of shirdi lived here for most of the 80 years of his life. Sai Baba is regarded as a saint by both his Hindu and Muslim devotees. The town became prominent after the death of the saint in the year 1918. This famous religious sacred destination in India is dotted with numerous tourist places and pilgrim spots. The famous Shani Shingnapur Temple is at a distance of 65 km from shirdi best shirdi tour package from chennai Legends of shirdi Sai Baba can be traced back in the middle of the last century.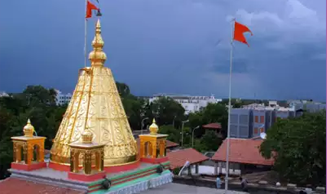 Sai Baba, as a boy of about 16 years of age, first appeared here under a Neem tree and performed a hard penance. For about 60 years, the sage dedicated his life to boost up the life of the poor and suffering. Through his teachings, he tried to merge Hinduism and Islam. The mosque in which Sai Baba lived is called Dwarkamai. He practiced Hindu and Muslim rituals and was buried in a Hindu temple in shirdi. This popular saint is worshipped by people all around the world. After his death this place has become a major tourist Attractions in shirdi. The other places of interest nearer are the Samadhi Mandir of shirdi Sai Baba, built by a devotee of Sai Baba of shirdi, Shreemant Gopalrao Buti in 1917-1918, this is the place where Sai Baba went into his Samadhi (memorial). The devotee wished to install the idol of a Hindu deity here, but Sai Baba himself became the deity. After he passed away, his memorial was built here using white marble. At the back of this Samadhi is an idol of Sai Baba, seated on a throne. Also known as shirdi Sai Baba Temple, the shrine features exquisite silver pillars ornamented with elaborate designs. There is an assembly hall in front of this temple, which can accommodate 600 devotees. The hall showcases various things used by Sai Baba during his period. Visiting time of Sai Baba Samadhi Mandir Temple in Shridi is from 5 AM to 10 PM.
Sai Baba Temple (Samadhi Mandir)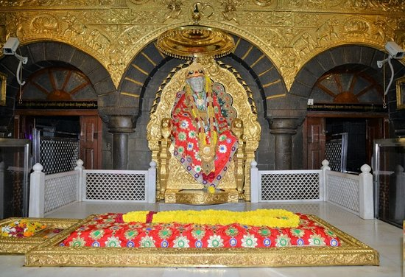 This is the most important shrine in Shirdi. It was originally called Dagdi Wada and also Butti Wada as the mansion was built by a devotee from Pune named Gopalrao Butti. Work on the wada was started in 1915 and at Baba's request Gopalrao built a temple to Lord Krishna inside. On his last day Baba had wanted to be taken to the Butti Wada and when he attained nirvana in 1918 his mortal remains were buried here. The image of Krishna was then shifted to the Dixit Wada Museum. Today there is a white marble tomb and a life size marble image of Sai Baba is placed next to the tomb. This statue was carved by the sculptor Balaji Vasant Talim from Mumbai and installed here on 7th October, 1954. The religious rituals that have grown around the image all reflect how for his devotees Sai Baba is still a living presence.The image is bathed every morning, it is offered four meals every day,
its garments are changed after each aarti and at night a mosquito net is hung around it. At night the tomb is covered in a strip of cotton cloth like those that were used to make his kafnis. A glass of water is always placed beside the image. The marble statue of Sai Baba in the Samadhi Mandir has become the most familiar image of the saint. Many feel it captures the essence of Baba's character. There is an intriguing story of its creation. Some white marble arrived from Italy at the Bombay docks but no one claimed it. So the authorities auctioned it and the buyer offered it to the Shirdi Sansthan. The sculptor Balaji Vasant Talim was commissioned to make the image and all he had was a single photograph to work with. The image was installed at the Mandir on 7th October 1954 on Vijayadashami day. There are also recitals from the book Sai Samarth Satcharita and bhajans are sung and a palanquin procession starts from the Samadhi Mandir to Dwarkamai every night. A special prasad can be purchased from the reception counters all day. The ash Udhi is distributed free from a counter opposite the Samadhi Mandir.
Dwarkamai
Shri Sai Baba came to Shridhi with a marriage procession. He stayed at Dwarkamai till the very end of his life. Dwarkamai is situated on the right side of the entrance of Samadhi Mandir. Here he solved problems of the people, cured their sickness and worries. Before Baba's arrival in Shridhi, Dwarkamai was an old mosque in a dilapidated condition. Baba turned it into Dwarkamai and proved that God is one. The first level of Dwarkamai has a portrait of Baba and a big stone on which Baba used to sit. This level has two rooms. One contains the chariot and the second a palkhi. Just in shirdi tour package from coimbatore front of the room where the chariot is kept is a small temple.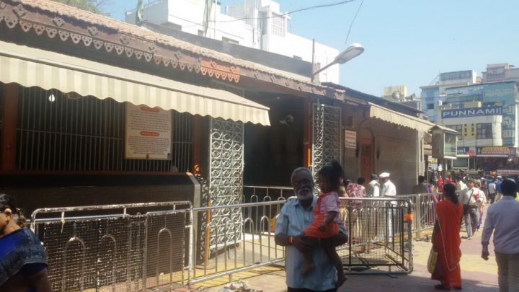 A saffron flag flies over it. The second level of Dwarkamai has a square stool made of stone, which Baba used for taking a bath. The main attraction of this place is the oil painting of Shri Sai Baba sitting in a carved wooden shrine. This level also has the grinding stone and the wooden vessel called Kolamba in which Baba used to keep the Bhiksha brought from the village.
Chavadi

The Chavadi is a small house situated close to the Masjid. Sai Baba spent every alternate night over here. One can find here the 'Asan' or seat on which he used to sit, a wooden plank and a wheel chair owned by Sai Baba. His body was bathed here for the last time before his funeral.
Gurusthan
Sai Baba first came to Shridhi in the form of Bal Yogi- a child ascetic. He was first spotted seated under a Neem tree. This place came to be known as Gurusthan. The renovation of Gurusthan was made on 30th September, 1941. The present temple was built after this period. There is a small shrine in Gurusthan. On a elevated platform of this shrine a big portrait of Baba is placed. On the side is a marble statue of Baba. In front of the portrait is a Shivling and the Nandi. Photos of twelve Jyotirlingas are kept in the temple. The branches of the Neem tree have come out through the roof of the temple. At a short distance lies Baba's CHAVADI. Baba used to sleep here every alternate day. The Chavadi is divided into two parts. One part of the Chavadi has a large portrait of Baba along with a wooden bed and a white chair belonging to him.
There is a cottage of Abdul Baba, an ardent devotee of Shri Sai Baba, in front of the Chavadi. The Lendi Baug was looked after by Abdul Baba. There are photos and various things which were handled by Sai Baba and Abdul Baba in the cottage. There is a Maruti Mandir located at some distance from the cottage of Abdul Baba. This mandir was visited by Baba for the sat-sang with Devidas, a Balyogi, who lived at the Mandir ten to twelve years before Baba arrived.There are also temples of village deities named Shani, Ganapati, and Shankar to be visited.
Khandoba Temple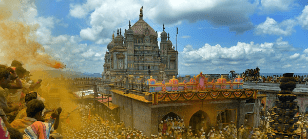 The Khandoba temple is situated at the Ahmednagar-Kopergaon road and is dedicated to Lord Shiva. It is among the oldest temples of Shirdi. It was at this temple that the priest called Baba with the name "Aao, Sai" hence he became well known as Sai Baba.
Lendi Garden
At some distance from Gurusthan there is the Lendi Baug. This Baug was made and watered daily by Baba himself. It got its name from a Nalla (a drain) which used to previously flow there. Baba used to come here every morning and afternoon and take rest under a Neem tree. Baba dug a pit, 2 feet deep, under the Neem tree and kept a Deep lit in that pit. One octangular Deepgriha called Nanda Deep has been built in marble stone in memory of this place. It constantly burns in a glass box. On one side of the Deepgriha is a Peepal tree and on the other side is a Neem tree. coimbatore to kasi flight package Some distance away is a Datta Mandir below an Audumbar tree. In the Mandir there is a statue of Datta built in marble stone. The statue of Datta was installed on 6th December, 1976.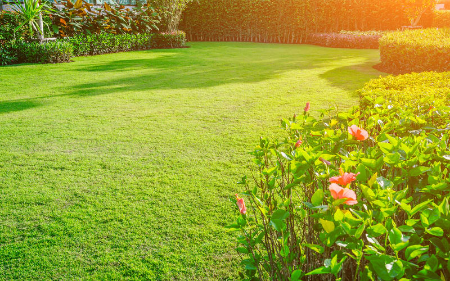 Just behind the Datta Mandir is a Samadhi of the horse, Shyamsundar which belonged to Baba and which used to bow to him. Lendi Baug also has a well dug by Baba with the cooperation of his devotees. At the entrance of the Baug are the Samadhi's of ardent Sai devotees Tatya Kote Patil, Bhau Maharaj Kumbhar, Nanavalli and Abdul Baba.
Dixit Wada Museum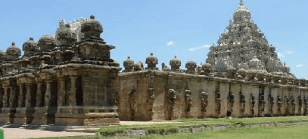 The Museum is situated in the center of the Sansthan complex and contains rare black and white photographs of Sai Baba. Other articles like Baba's 'Kafni' (long robes) and his leather Padukas, gramophone records, smoking pipe, water tumblers, bathing stone and cooking utensils which were used by Sai Baba are on display. The museum remains open from 10 am to 6 pm.
Thursday Palki Procession
Shri Sai Baba used to sleep in Chawri every alternate night. This visit at Chawri was prefaced by a 'palki' procession and Sai Baba was accompanied from Dawakamai to Chawri. Even nowadays this palki procession is carried out with the same enthusiasm and adoration. The procession starts from Samadhi Temple to Dwarkamai Masjid from here it goes to Chawri and returns to Samadhi Temple. Shej Aarti is presented to Shri Sai Baba after the procession.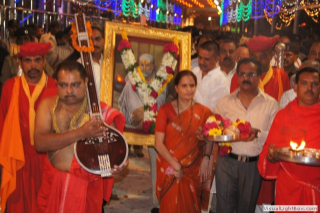 Major Festivals in Shirdi

Guru Poornima is one of the main festivals celebrated by devotees of shirdi Sai Baba. Other festivals celebrated in shirdi include Dussehra and Ram Navami (Ramnavami). The shirdi Samadhi Mandir remains open for the whole night only on these occasions.
| Programme Detail | Time |
| --- | --- |
| Temple Open | 4 AM |
| Bhupali | 4:15 AM |
| Kakad Aarti (Morning) | 04:30 AM - 05:00 AM |
| Bhajan in Sai Baba Mandir | 5:00 AM |
| Holy Bath of Shri Sai Baba (Mangal Snaan) in Samadhi Mandir | 5:05 AM |
| Aarti "Shirdi Majhe Pandharpur" | 5:35 AM |
| Darshan begins in Samadhi Mandir | 5:40 AM |
| Dhuni Pooja with Rice and Ghee in Dwarkamai | 11:30 AM |
| Mid Day Aarti | 12 PM -12:30 PM |
| Pothi (Devotional Reading/Study) in Samadhi Mandir | 4:00 PM |
| Dhoop Aarti | At Sunset (20 Minutes) |
| Devotional Songs in Samadhi Mandir & Cultural Programmes (if any) | 8:30 PM -10 PM |
| Chavadi and Gurusthan Closes | 9:00 PM |
| In Dwarkamai water is offered to Baba; A mosquito net is hung & the hanging lamp is lit. | 9:30 PM |
| Dwarkamai (the upper part) closes | 9:45 PM |
| Shej (night) Aarti, After Aarti, A shawl is wrapped around the statue in the Samadhi Mandir, A Rudraksha mala is put around baba's neck, Mosquito net is hung, and a glass of water kept there. | 10:30 PM - 10:50 PM |
| Samadhi Mandir closes after night Arati | 11:15 PM |
Places to Visit Around Shirdi
Shani Shingnapur
Shignapur is a village located in Ahmednagar District of Maharashtra. It is about 73 km from Shirdi. The presiding deity of Shinganapur, Sri Shaneshwara or Lord Shanidev-the personification of the planet Saturn is worshipped with utmost reverence and devotion by multitudes of people from all over the world. The spectacle of the deity in black stone is overwhelming. A unique aspect of this place is, that no temple structure houses the Shanidev. There is only a simple platform on which stands the swayambhu idol, in black stone. Unlike other pilgrimage centres, devotees here can perform puja or abhishek or other religious rituals themselves. One of the unique aspects of the village Shiganapur is that houses here have no door-frames or locks on them for safety. They are in fact not needed. The people here believe that it is the benediction of the god that no crime ever occurs in this village.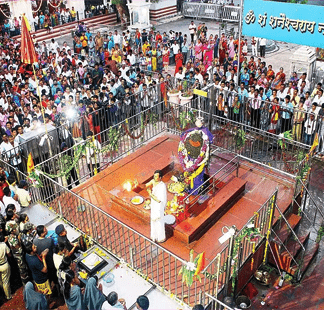 Places to Visit in Nashik
Nashik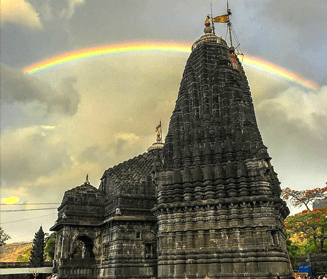 Nashik is around 86km from Shirdi and is a holy place that stirs up a personality of its own. It is rich in mythological association with great cultural and traditional significance. Several temples and religious sites can be explored here fulfilling your spiritual journey. Nashik also known as wine and grape capital of India, The city is situated on the banks of the river Godavari at the foothills of the Western Ghats mountains in the northwest region of Maharashtra. The most popular tourist attraction in Nashik are Panchavati temple complex, Muktidham, waterfall,Sita Gufa and Sula Vineyard.More tourist places in and around Nashik also includes Vineyards, Someshwar Temple, Ramkund, Sundarnarayan temple, Godavari River, Gangapur Dam, Tringalwadi Fort and the toughest trek in the Sahyadri called Alang, Madan and Kulang Forts.
Trimbakeshwar Temple
Trimbakeshwar Shiva Temple is one of the 12 Jyotirlingas of Lord Shiva, situated in the Nashik district. The temple complex is the source of the Godavari river and one of the must visit religious center in Maharashtra.

Panchvati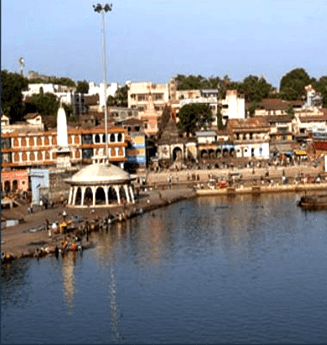 Panchvati is situated on the left banks of sacred river Godavari in Nashik city. Close to Kalaram temple there are some very old and lofty banyan trees which are believed to be sprung from five banyans which gave its name to Panchvati.The name 'Panchvati' is derived from the words Panch which means five and Vati which means banyan tree. This is the site where Sita Gumph or Sita's Cave is situated . Kalaram temple , Kapaleshwar temple, Ganga Godavari temple, Sunder Narayan temple, Talkuteshwar temple,temple, Nilkantheshwar Goraram mandir Murlidhar Mandir, Tilbhandeshwar mandir, Balaji temple, Sandvyachi devi temple, Vitthal temple, Pataleshwar temple, Naroshankar temple, Ramkund, Karthikswami temple, Dutondya maruti, Katya maruti temple, Panchmukhi Hanuman temple, Bhadrakali temple, Katpurthala monuments are located in and around Panchavati area. Nashik has earned name of the Banaras of western India due to large no of temples.
Sita Guha
Sita Gumpha Caves is one of the popular tourist destination in Nasik and the place has religious significance and a pilgrimage spot. This place is located in Panchavati near Kalaram temple where Sita have stayed for some time.

Ramkund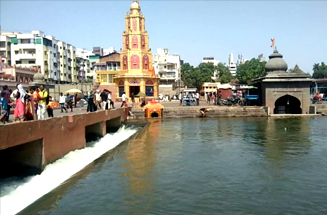 Ramkund is located along the bank of Godavari River. This place is situated at a distance of 2 km from Central Bus stand. This is the holiest spot in Nashik as it is believed to be the place where Lord Rama used to bathe. It contains the bone dissolving Asthivilaya Tirth. It was built by Chitrarao Khatav, a landholder of Khatav in Satara in 1696 havrao and was repaired by Gopikabai, the mother of Madhavrao the fourth Peshva. Peoples bring ashes of their deceased relatives and immerse it in Asthivilay kund. Ashes of big personalities like Pandit Nehru, Indira Gandhi, Y B Chavan and others had been immersed at Ramkund.
Kalaram Temple
Kalaram Temple is dedicated to Lord Rama and the most important Hindu shrine in the city of Nashik. The temple has the black statue of Lord Rama and known to be one of the most famous temple of Lord Rama in India.

Muktidham

Muktidham is a popular tourist attraction in the Nashik and the temple complex dedicated to various Hindu Gods and Goddesses. The temple has replicas of 12 Jyotirlingas, Sri Krishna temple, Vishnu temple and eighteen chapters of Geeta.
Saptashrungi
The temple of Saptashrungi Nivasini (Goddess Living on Seven Hills) is ancient and said to have been visited by Rama, Sita and Lakshman when they lived at Panchvati. These majestic hills are incredibly fertile and beautiful to look at. The forests on the hills are full of medicinal herbs and enjoy a distinct connection to the Ramayana, as being the hills where Hanuman obtained the Sanjeevani herb for Lakshmana, when he was knocked unconscious in battle.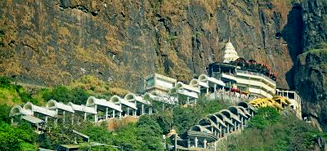 Kapileshwara Temple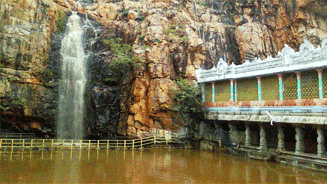 Devoted to the Lord of lords, Kapileshwara Temple is a beguiling and an ancient Shiva temple located in Nashik. This enchanting Hindu shrine is said to be the place where Lord Shiva got rid of his sin of Brahm-Hatya when he chopped the 5th head of Lord Brahma. After this, Nandi suggested and guided him to the conflux of rivers Godavari, Aruna, and Varuna. Lord Shiva took a dip and cleared his sin. Each day and especially during Mahashivaratri, this temple is swarmed by hundreds of devotees.
Places to Visit in Ajanta & Ellora
Ajanta Caves
The most famous tourism destination in Maharashtra, the Ajanta caves are famous for the 'frescoes' which adorn the interiors of the caves. These 30 rock-cut Buddhist cave monuments, date back from the 2nd century and are considered masterpieces of Buddhist religious art. There are small crater like holes on the floor of the caves, which are believed to have acted as palettes when the caves were being painted. Much older than the Ellora caves, these were discovered purely by chance by a British office out for hunting. Some historians believe, the caves isolation from humanity is the reason behind the preservation of this wonderful artwork. These 2nd century caves were among the earliest monastic institutions in India.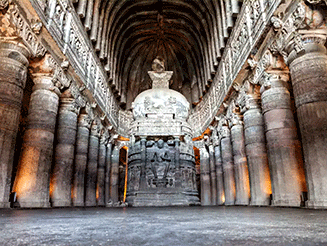 Ellora Caves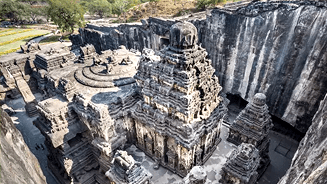 Though always referred together as Ajanta and Ellora caves, the Ellora caves too are a part of the famous travel destinations in Maharashtra. Unlike Ajanta, which has more frescoes or paintings Ellora caves have exquisite sculputures and less dramatic. Built between the 5th century and 10th century, these impressive complex of Buddhist, Hindu and Jain cave temples or the 34 "caves" have been excavated out of the vertical face of the Charanandri hills. Like Ajanta caves these too are UNESCO World Heritage Site.
Mini Taj Mahal
Bibi Ka Maqbara is a mausoleum built by Mughal emperor Aurangzeb as a symbol for love for his wife Dilras Banu Begum. Built in a hexagonal shape, on an elevated platform with 4 minarets on 4 corners it bears a striking resemblance to the iconic Taj Mahal at Agra. The monument has some intricate carvings and designs. As per historians, it was intended to rival the Taj Mahal but budgetary constraints by Aurangzeb resulted in a poor copy of the Taj. However, Bibi Ka Maqbara is the largest structure ever built by Aurangzeb.
Places to Visit in panch jyotirlinga
Bhimashankar Jyotrilinga, Pune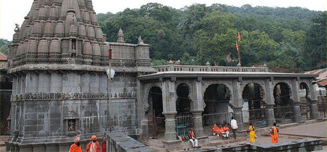 Bhimashankar Jyotirlinga is an ancient & one of the holiest of holy shrines of Lord Shiva surrounded by a scenic nature with green forest declared as Bhimashankar Wildlife Sanctuary. In this temple, Lord Eshwara is shown in Half man and Half woman (Ardha Narishwara) form. There is a continuous water flow from this Jyotirlinga, that is believed to be originated from the sweat of Lord Shiva which is the speciality of this place.
Trimbekeshwar Jyotrilinga, Nashik
Trimbakeshwar Jyotirlinga is one of the 12 jyotirlingas of Lord Shiva which is considered to be the main jyotirlinga.It is also the origin of river Godavari. The Sun, Moon and Agni form the three eyes located at different direction on this Jyotirlinga. The fascinating & unique feature of this Jyotirlinga is the 3 faced lingams symbolizing Lord Brahma, Lord Vishnu and Lord Rudra.

Grishneshwar Jyotrilinga, Aurangabad

Grishneshwar Jyotirlinga temple is located in the Verul village & is made up of red rocks. The walls have beautiful carvings of holy inscriptions and other art work. The temple is 240*185 feet long & has remarkable five tier shikara. This shrine is considered to be important because it is believed to be the last Jyotirlinga temple on the earth.
Aundha Nagnath Jyotrilinga, Nanded
Aundha Nagnath Temple is an ancient temple of Shiva located in the Hingoli district of Maharashtra ,closely associated with the saints namely Namdev, Visoba Khechara and Jñāneśvar. It is said that even Guru Nanak, the founder of Sikhism visited the temple. At this temple the Linga faces south and the Gomukha faces the east. Since the Garba Griha and Linga are in the basement level, devotees have to climb down to worship the main deity. Devotees have often sighted snakes with open hoods guarding the Linga.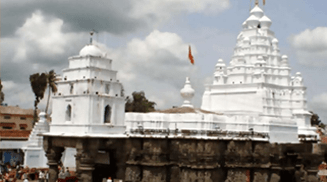 Parli Vaijnath Jyotrilinga, Nanded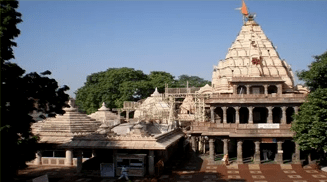 Parli Vaijnath Temple or Parli Vaidyanath Temple, is located in the Beed district of Maharashtra. It is believed that anyone who touches the Linga can receive the power of Amrit since Lord Vishnu hid both Amrit and Dhanavantari in the Linga. Devotees are allowed to touch the Linga during worship which helps in healing and reaping various health benefits. Parli is also considered to be a meeting place of HariHara where festivals of both Hari (Vishnu) and Hara (Shiva) are celebrated.
Places to Visit in Pandharpur
Pandharpur, Sholapur
Pandharpur is a religious center situated on the banks of Bhima River and is 65 km away from Sholapur. Pandharpur is one of the most important pilgrimage places in Maharashtra state. Pandharpur is a holy place of Shri. Vitthal and Shri. Rukmini & is said to be the home of Maharashtra's presiding deity Lord Vitthal. In Pandharpur there are two separate beautifully sculpted temples for the Lord and his Consort Goddess Rakhumaithere. Vithoba Temple is the main temple, situated in the central part of the town. The temple has eight entries. There are many other temples in town dedicated to different other Hindu deities.
Kholapur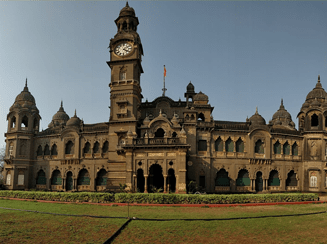 Kolhapur, with a strong historical and cultural background is one of the most developed cities of Maharashtra. It is amongst the famous tourist destinations in the state. The city has several important places to see, which include holy places, forts and palace, museums and a wildlife sanctuary as well. There are many religious and sacred placed to visit in Kolhapur. which make for some popular tourist attractions in the city One of the most important temples here is Shri Mahalakshmi Temple, which is one of the Shakti Peethas. Koppeshwar Mandir is another religious place that is popular amongst locals as well as tourist.The shrine is said to be an architectural wonder. Apart from it, Jyotiba Temple near Wadi Ratnagiri, Audumbar, Shri Bahubali Bramhcharya and Vidyapeeth, and Khidrapur
Astha Vinayak Temples,Maharashtra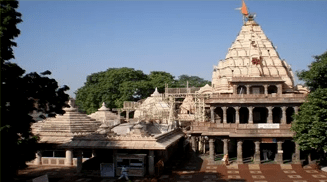 Ashta vinayaka Temples refer to the eight Shrines of Lord Ganesha situated in Maharashtra state of India. The Ashtavinayaka Yatra is the pilgrimage covering these eight holy abodes of Ganesha in and around Pune District of Maharashtra. Out of these 8 Temples 6 are in Pune and 2 are in Raigad District. Lord Ganesha the elephant faced God is usually worshiped first before any other worship service is carried out to any other deity. "Vinayaka" is another name of Lord Ganesh, the God loved and worshiped by every Hindu. Lord Ganesh is the protector of his devotees. Eight effigies found among the nature, sculptured by nature have been housed in the temples created ages ago at the places where the effigies were first identified.
These 'Swayambhu' effigies, now the sacred idols, are the famous Ashta "Vinayak". Ashtavinayaka literally means "eight Ganeshas" in Sanskrit. Everybody should visit the Ashtavinayak in Maharashtra at least once in a life time. There are eight temples dedicated to Ganesha, in Maharashtra related to various episodes from the puranas and other legends. According to Shastra, first you have to visit Moreshwar of Moregaon. Then visit Siddhatek, Pali, Mahad, Theur, Lenyandri, Ozar, Ranjangaon and then again Moregaon.
Places to Visit in Kasi (Varanasi)
Kasi (Varanasi)
Kasi (Varanasi) is everything your imagination conjures and more. It holds the top place among the list of sacred cities in India among Hindus. Also called the City of Lights this town lies on the western banks of the river Ganga, with plenty of mysteries and mysticism surrounding it. One of the oldest cities in the world, Kasi is the place most people head to with the idea of washing away their sins in the holy Ganges and with a legacy dating back to more than 3500 years, there are plenty of places to visit in Varanasi. kasi tour package from coimbatore by flight Lore's say, it is an auspicious place to die as you can attain moksha, i.e. no more rebirth. This beautiful city is often considered the land of Lord Shiva, because of one the 12 jyotirlingas is located here in the Kasi Vishwanath Temple.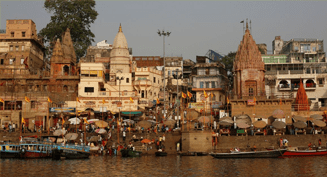 An important place of pilgrimage this sacred city has more to offer than places of worship; right from fascinating architecture to royal palaces turned hotels to the learning centres. Every visit important places of Varanasi is Kasi Vishwanath, Kasi Visalakshi, Kala Bhairavar Temple and Kasi Annapoorneswari Temples. Visit Ganga Aarti by boating on the way visiting Manikarneka Ghat and Harichandra Ghat. Having night Sayana Arati of Kasi Viswanath Temple. Morning holy bath in river Ganga and performing Tharpanam.
Places to Visit in Gaya
Gaya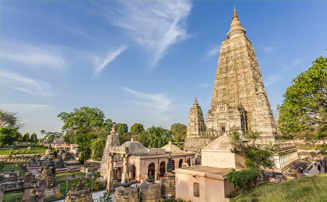 Gaya is that place that you would want to go to if you are in real need of solace, peace, and spiritual enlightenment. The drive for divinity traffics people into this city, as it has so much to offer. The city of Bodh Gaya is nestled in the ancient revered district of Gaya, Bihar. The name takes from the malicious demon Gayasur who was once trampled to death by Lord Vishnu's foot. Surprisingly, this led to the formation of hills in Gaya. It is bordered by the state's capital Patna in the north, Phalgu River in the east, and Ram-Shila Hills in the west. This pious city in Bihar is well-known for a multitude of reasons. It shares a beautiful amalgamation of enlightenment and sanctification by Jains, Hindus, and Muslims. It accounts to be one of the four religious sites for practicing Buddhism.
This is where some of the most important episodes of the epic Ramayana and Mahabharata was staged. Rama, Sita, and Lakshman came here to offer Pind Daan for their father, Dasharatha. According to legend, this is the place where it is believed that Lord Buddha meditated and attained enlightenment under the Bodhi tree. Until the turn of the 18-century, it was known by several other names like Sambodhi, Vajrasana, Uruwela or Mahabodhi. Now that it has been recently reckoned as one of the UNESCO World Heritage Sites, the historical significance of this city acts as a magnet for many tourist attractions around the globe.
Places to Visit in Allahabad
Allahabad
Allahabad, one of the most important cities of the expansive state of Uttar Pradesh is also a major pilgrimage for the Hindus. This is the place where the Hindus prefer to flow the dead remains for the journey to the ethereal abode. The place is considered to be one of the most pious one which takes the soul of the ancestors away from the eternal cycle of birth and rebirth. The charismatic city is also famed for many famed people either being born or have made Allahabad their permanent home. Allahabad is a famous tourist's spot of Uttar Pradesh and is an indispensable part of the Travel to Uttar Pradesh. The city though is more famous for its Holy Places which are the major attractions of the city. Holy Places in Allahabad are the major part of the Allahabad Tour and it attracts the major tourist population to the city.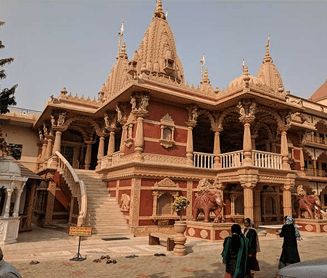 Ayodhya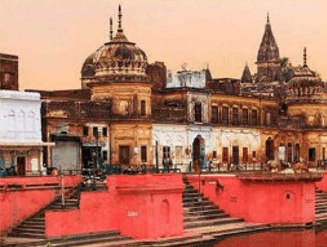 The city of Ayodhya is an important pilgrim place for Hindus in India. It is one of the seven holiest cities of India. Ayodhya is the birthplace of Lord Ram, who is an important deity in the Hindu pantheon. This small, quiet town attracts pilgrims from all over the country. Hindu pilgrims visiting Ayodhya during festivals and important religious functions consider a holy dip in the sacred Saryu River very auspicious. Ayodhya city was the capital of the ancient kingdom of Ayodhya, where Lord Ram was born. It is also mentioned in Hindu mythology and the Ramayana. The ancient scripture of Atharvaveda describes Ayodhya as 'a city built by gods' and compares its prosperity with the glory and splendor of the paradise.