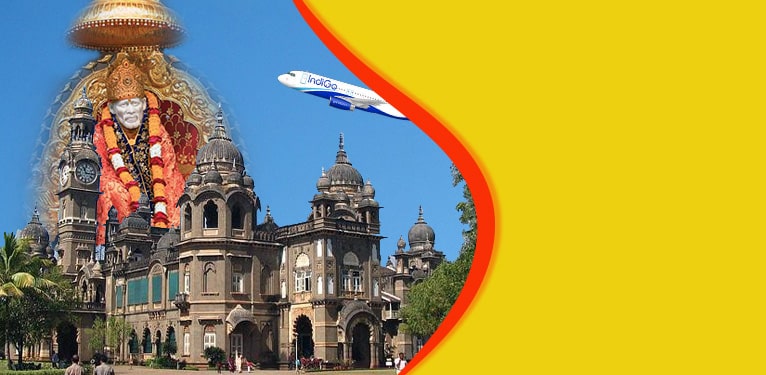 Shirdi & Kholapur
Flight Package (3 Days)
Rate : 16500/- Onwards
+
5 % GST extra
Trip Type : Group / Customized
Cover : Shirdi, Shani Shingnapur,
Renukadevi & Kholapur Shirdi
TOUR CODE
SC-13
Shirdi & Kholapur Flight Package (3 Days)
TOUR CODE-SC-13
Departure at 05.15 a.m from Chennai Airport. Arrival 06.50 a.m at Pune Airport. Cab will start at Pune airport by 07.00 a.m and drive to Kholapur and having Dharshan of Mahalakshmi Temple and Jyotiba Temple for Evening Aarti and pooja. Local temple visit in Kolhapur and night halt.
Starting from Kholapur at 09.00 a.m and drive to Shirdi and reaching reaching at 06.00 p.m. Refreshment at Hotel. Evening Dharshan(V.I.P) of Saibaba Temple and other places of Gurusthan, Dwarakamai, Sai Museum, Chavadi and Lendi Garden. Night Halt at Shirdi.
Morning Dharshan / Kakada Aarti of Saibaba Temple and Free Time for Shopping. Starting from Shirdi at 9.00 a.m and on the way visiting Shani Shingnapur, Renuka Devi Temple and Maha Ganapathi Temple Reaching Pune Airport by 09.00 p.m. Boarding Flight at Pune Airport by 11.00 p.m Reaching Chennai Airport at 00.50 a.m.
Inclusions
A/C luxury Bus/Car pickup and drop to Pune Airport.
Flight Tickets (To and fro)
One night stay at Shirdi in A/C Dlx room one night stay at Kolhapur.
Special V.I.P Darshan (As per availability)
Tamil/English/Hindi speaking guide for the entire trip.
Buffet Breakfast or Fixed Table Menu
Package cost inclusive of All Toll, Parking & Driver Beta Charges.
Avail this Package only with minimum of 5 - 6 Persons.
Special Fair will be applicable minimum 45 days prior to the departure.
Temple Visit
Kholapur Mahalakshmi Temple
Jyotiba Temple
Saibaba Temple
Gurusthan
Dwarakamai
Sai Museum
Chavadi and Lendi Garden
Shani Shingnapur
Renuka Devi Temple
Maha Ganapathi Temple
Terms and Conditions
Subhayatra (A Unit of Sri Sairam Subhayatra) reserves the right to alter, vary or withdraw any tour it has advertised or published if it is deemed advisable or necessary without assigning any reason if the tour is cancelled all amount paid by you will be fully refunded, but no compensation is payable for consequential loss suffered. Yatra timing and itinerary are subject to change. Consequently it may be revised at any time during the yatra, with or without notice depending on the exigencies of occasion. We will try to advise you of these amendments, prior to the start of the tour or on yatra. In this case if any yatra participant misses any part of sightseeing due to delay on his part, he will not be entitled to claim a refund for the same. No refund is payable for any unutilized services.
Subhayatra accepts no responsibilities for losses, additional expenses due to delay or change, missed connections, strike, weather/quarantine or other causes howsoever caused and all such expenses must be borne by the tourist.
We may, at our discretion, require any person to withdraw from any tour if we deem his/her acts or conduct offensive or a nuisance to other passengers, and we shall have no further liability.
Booking
The payments should be made by Demand, Drafts, Cheque, Net Banking and Online payment only, in the name of M/s. SRI SAIRAM SUBHAYATRA, Chennai. Advance payment 50% at the time of booking, Balance amount to be paid 3 days before the departure. Without full payment customers are not entitled to take part in the tour.
Special Offers
100% Free Ticket for all Infant Child on Flight Packages (Age: 0-2 Years) and 15% Off for Senior Citizens on Train Package.
Luggages
It is the responsibility of the customers to take care of their luggage's.
Cancellations
In any circumstances, if any customers cannot able to attend for the tour, the cancellation charge will be as follows:
Train Packages
30 Days before the tour date, 10% of the tour fare
30 Days before the tour date, 10% of the tour fare
2 Days before the tour date, 50% of the tour fare
No refunds will be given for cancellations afterwards.
Flight Packages
10 Days before the tour date, 25% of the tour fare
2 Days before the tour date, 50% of the tour fare
No refunds will be given for cancellations afterwards.
Accomodation
Subhayatra will provide accommodation in decent hotels. According to your bookings the rooms will be twin / triple sharing. According to the checkout time only hotel accommodation will be given. If a customer needs single room he has to pay the difference amount.
Whenever you have enrolled in any of our yatra, it is meant that you have read & accepted all our yatra's rules & regulations & instructions.
Transfer
Subhayatra, to provide quality & excellent service to our customers promptly & exclusively. We are assured about the quality and reliability of our services.We also provide almost all popular destinations around these cities like Pune Airport, Shirdi Airport, Mumbai Airport, Lonavala, Nashik, Mahabaleshwar, Shanishinganapur, Aurangabad Airport and Varanasi Airport.
You can call our round the clock (24*7) call centre and get support for your journey and any other associated requirements. Our employee has been qualified to make your journey pleasurable and a new experience. We can arrange 4/6/712/13/17 Seater A/c Vehicles in Shirdi and Kasi. We offer more personalized & transparent service at lower cost in comparison with conventional travel agents.